Lipo Laser Body
Sensedebelle Laser Lipo Treatment is 100% non invasive,spot reduction and body contouring session. It destroys fat deposits in specific areas of the body, resulting in a harmonious body shape in a shorter time.
Laser LIPO emits low levels of laser energy to creates a chemical signal in the fat cell, breaking down the stored triglycerides into free fatty acids and glycerol before releasing them through channels in the cells membranes. The fatty acids and glycerol are then transported around the body to the tissues that will use them during metabolism to create energy, Through this process,the fat cells'shrink' significantly, resulting in inch loss. Post treatment exercise will enhance metabolism and thus eliminate the free fatty acids from the body.
Recommended treatment course of three 30 minute sessions every week, for three to eight weeks for best results.
SENSEDEBELLE LIPO LASER TECHNOLOGY TREATMENT IS SUITABLE FOR:
Reduction Of Localised Fat Deposits
Reducing Body Circumference
Temporary Reduction Of Appearance Of Cellulite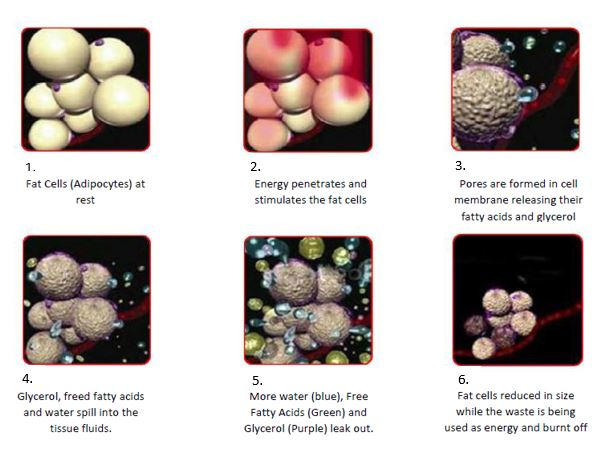 激光技术
Sensedebelle 激光脂肪治疗是 100% 无创、局部减少和塑身疗程。 它可以破坏身体特定部位的脂肪沉积,从而在更短的时间内塑造和谐的体型。
激光 LIPO 发射低水平的激光能量,在脂肪细胞中产生化学信号,将储存的甘油三酯分解成游离脂肪酸和甘油,然后通过细胞膜中的通道释放它们。 然后脂肪酸和甘油被运送到身体周围的组织,在新陈代谢过程中使用它们来产生能量,通过这个过程,脂肪细胞显着"收缩",导致英寸损失。 治疗后运动会促进新陈代谢,从而消除体内的游离脂肪酸。
SENSEDEBELLE LIPO 激光技术治疗适用于:
减少局部脂肪沉积
减少体围
暂时减少橘皮组织的出现
推荐的疗程为每星期三个 30 分钟的疗程,持续三到八周以获得最佳效果。