About Sensedebelle
We Take Care of Our Customers
---
Sensedebelle is the perfect haven to achieve aesthetic results with pampering hands and caring hearts. Obsession with perfection and overall well-being motivates us to constantly upgrade our equipment and skill set without losing the personal touch.
All signature facials at Sensedebelle comes along with extraordinary double facial massages; welcome massages that relaxes your tensions before facial treatment and unique set of massage steps that stimulates facial muscles which promotes collagen production to improve skin elasticity to prepare for optimal absorption of nutrients during facial treatments.
Diagnostic skin analysis scan will determine the suitable facial treatments to map out the recommended treatment procedures. We specialized in wet extraction to protect skin natural barrier and calming of sensitive skin with nano soothing technology after extraction.
Sensedebelle adopts DR.BELTER PROFESSIONAL CARE CONCEPT which stands for renowned innovation in professional application, based on natural science with visible results and maximum skin compatibility.DR.BELTER COSMETIC is inspired by the fascinating diversity of nature and constantly transfers this into new active substance formulations, using precious domestic and exotic botanicals.
Age is timeless and so is you. Reclaim your beauty with Sensedebelle today!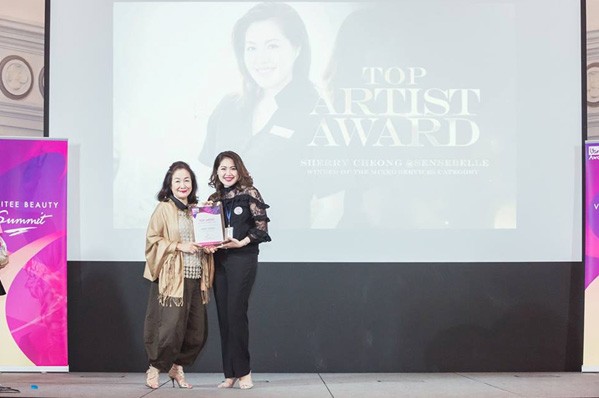 Love the pleasant ambience and instant results at Sen'se, therapist are welcoming and professional.

Significant improvement in skin conditions after 3 sessions of Aqua infusion treatment. Highly recommended.
Dropped 2 dress sizes in 1 month with signature slimming. Will be coming back for monthly maintenance for my new figure.

Finally discover the ultimate solution to solve my sagging skin and open pores issue! Oxygeneo is the answer to visibly younger skin.
EXPERIENCE OF BEAUTY
Recognising Sherry Cheong
---
Recognising Sherry Cheong (@sensedebelle on Vanitee) as the winner of the Mixed Services Category! Congratulations to Sensedebelle Team for taking the lead to serve with passion and caring hearts.