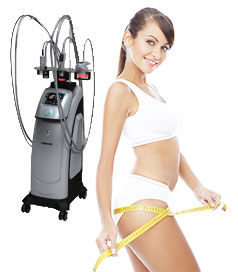 Sensedebelle Signature Body Sculpting –Cavitation+ Radio Frequency+Soft laser + Vacuum Suction
Sensedebelle Signature Body Sculpting is a 4 in 1 Technology ( Cavitation + Multi Polar RF + Soft Laser + Vacuum ) Slimming treatment.
Ultra sonic cavitation is a concentrated sonic energy targeted at selective areas to burst the fat cells through micro bubbles which breaks the fat cells membranes.
Soft laser will dissolve fat cells and Multi polar RF will burn and liquefy the fat cells while stimulating collagen for firmer and smoother skin. Vacuum therapy further enhances drainage of toxins while improving blood circulation to speed up the slimming process resulting in firmer and smoother skin while losing fat.